Update of QZS L1S signal specifications(IS-QZSS-L1S-006)
Introduction
The quasi-zenith satellite (QZS), Michibiki, not only transmits positioning signals, but also transmit L1S signals that improve positioning accuracy and convey disaster information. The new specification IS-QZSS-L1S-006 for this L1S signal was published on 2023-10-25.
Reorganization of QZS L1 band signal
Currently, QZS-2, QZS-3, QZS-4, and QZS-1R (the replacement to QZS-1) are available. In the future, the QZS constellation is scheduled to have a seven satellite system by 2027 (https://qzss.go.jp/en/overview/services/seven-satellite.html), and after that, an 11-satellite system. The signals when the seven-satellite system will be realized has been published.
The new QZS-5, 6, and 7 do not broadcast positioning signals using L2 band signals. Additionally, with the operation of the new QZS satellites, the most widely used positioning signal, the L1 C/A signal, is scheduled to transition to the L1 C/B signal on all QZS satellites.
Additionally, L1S signals will not be broadcast from QZS-5, 6, and 7. The number of signals in the crowded L1 frequency band will not be increased. Instead, QZS-6 and QZS-7 broadcast SBAS (satellite-based augmentation system) signals, just like QZS-3.
Reflection of reorganization to QZS L1S signals
In the newly published L1S signal specification IS-QZSS-L1S-006, PRN (pseudo random noise) numbers 187, 188, 190, 191, which were supposed to be QZS-5, QZS-6, and QZS-7, were deleted.
Old specification, IS-QZSS-L1S-005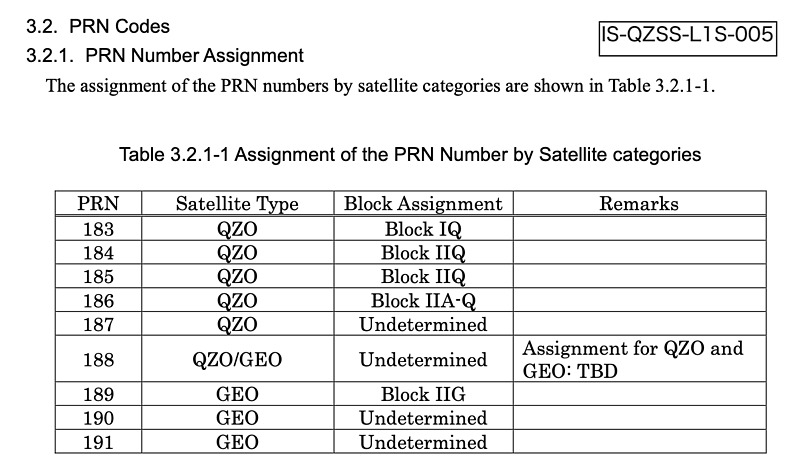 New specification, IS-QZSS-L1S-006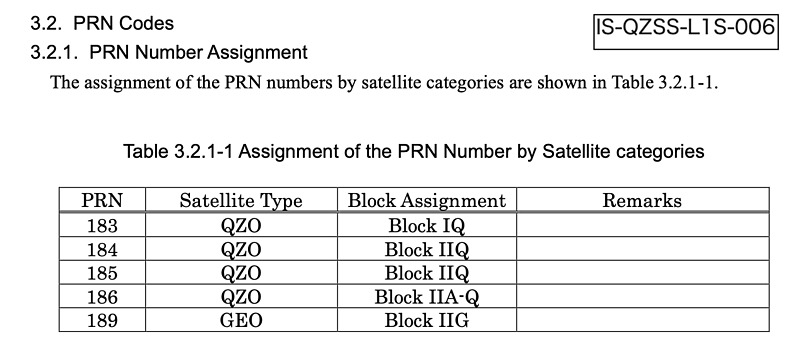 Additionally, in the new specifications, a description of differential tropospheric delay correction unique to L1S signals has been added as section 5.5.3.4.
Conclusion
L1S signals will not be broadcast from the new QZS-5, 6, and 7, and this has been reflected in the new specifications. On the other hand, it seems that disaster information other than weather information is planned to be transmitted using the remaining L1S signal. I'm sad about the new constraints, but I'm also looking forward to the future QZS satellites.
---
Related article(s):