Reception of DRM broadcasting signals using software defined radio KiwiSDR
I was able to listen to DRM (Digital Radio Mondiale) radio broadcasts in the medium and shortwave bands. Until now, AM radio broadcasting has been the mainstream for medium and short waves. DRM is a digital radio broadcast that aims to replace it. This time, I was able to receive a DRM broadcast from mainland China at 6,030 kHz.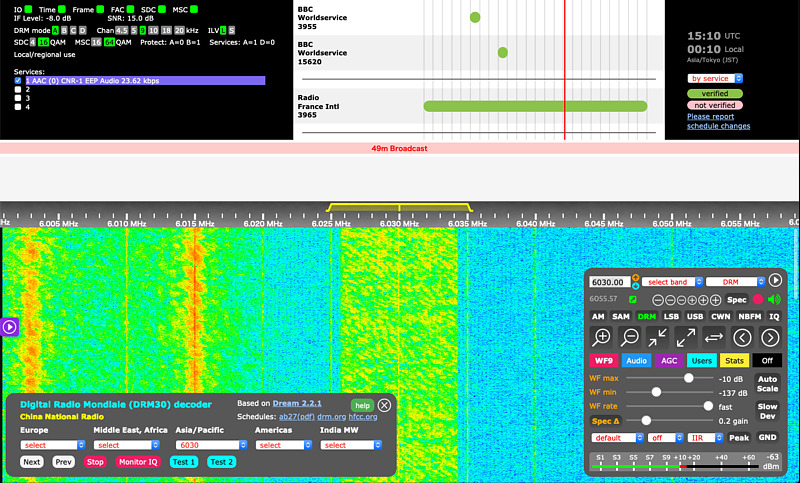 Previously, I combined this software defined radio Kiwi SDR with the GPLv2 licensed software Dream AM/DRM Receiver to I tried to receive DRM broadcasts, I couldn't receive it just one step away.
Yesterday, when I accessed the KiwiSDR management screen for the first time in a while, I received a software update. After the update, a DRM button was added so that only Kiwi SDR could receive DRM broadcasts. Wonderful. I was able to listen to the DRM broadcast for the first time, although the reception was unstable and often interrupted, probably because the reception environment at my place was not very good.
In Japan, it seems that the trend of abolishing medium-wave AM broadcasting is progressing due to aging equipment. Even in Japan, I think it would be fun to have a medium wave DRM broadcast, but it seems difficult at present.
The equipment used is KiwiSDR sold by Akizuki Denshi Tsusho for 24,800 yen, and the board microcomputer BeagleBone Green for about 5,000 yen and the whip antenna Apex Radio 303WA-2 installed on the roof of the university.
---
Related article(s):