NovAtel OEM729 new firmware 7.08.10
Introduction
I am using an OEM729 receiver from NovAtel, a Canadian GNSS (global navigation satellite system) equipment manufacturer. The new firmware (version 7.08.10, 2022-01-25) was out, so I immediately upgraded it.
Web interface upgrade
Open the OEM729 support page and download from the OEM7 WebUI in Firmware Downloads and the respective ZIP file links for 7.08.10 Firmware.
Firmware Downloads
OEM7 WebUI 		VER 2.6.1 (2020-09-16) 	ZIP
7.08.10 Firmware 		VER 7.08.10 (2022-01-25) 	ZIP
WinLoad 		VER 1.00199 	ZIP

Unzip these ZIP files, specify the firmware file in the CHOOSE FILE on the UPDATE page of the OEM729 receiver web interface, and click UPLOAD.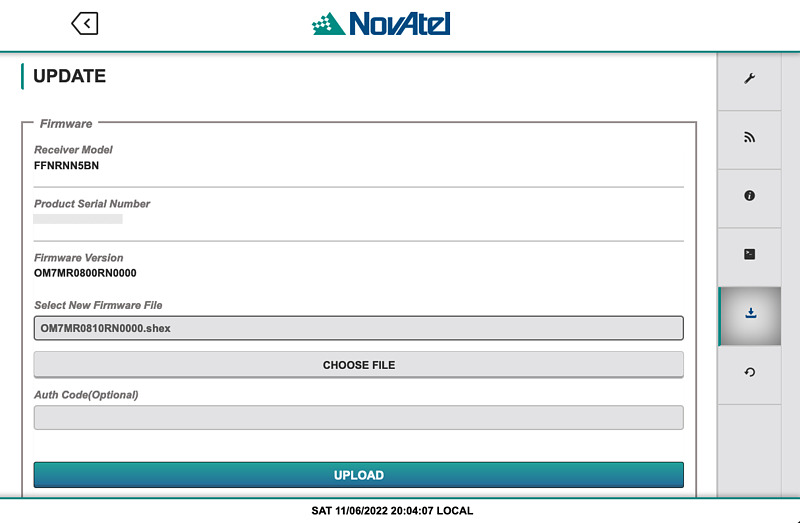 The current firmware version is 7.08.00 (OM7MR0800RN0000), and the updated version is 7.08.10 (OM7MR0810RN0000).
Similarly, upgrade the Web UI (user interface) firmware from version 2.6.0 (WWCM010206RN0001) to 2.6.1 (WWC010206RN0101).
According to the release notes, the feature additions in firmware version 7.08.10 are mainly related to the subscription option TerraStar C-PRO, but on the other hand, it is also written as "Improved multipath mitigation using a new correlator type".
The release notes also say "Use the almanac to determine the satellites in view" and "Prioritize MEO satellites for tracking" for BeiDou (why …?), and "Defaults to tracking E6B signal (previously defaulted to E6C)" for Galileo. New commands "LOCK OUT SATELLITE" and "UNLOCK OUT SATELLITE" that exclude specific satellites have also been added.
We will also need a command list to make detailed settings, so download the updated one. Select OEM7 Receiver Cards from PDF Documents page and click OEM7 Commands and Logs Reference Manual.
Signal in firmware version 7.08.10
The corresponding signals and the number of satellites of the new firmware confirmed by the LOG CHANCONFIGLIST command are as follows.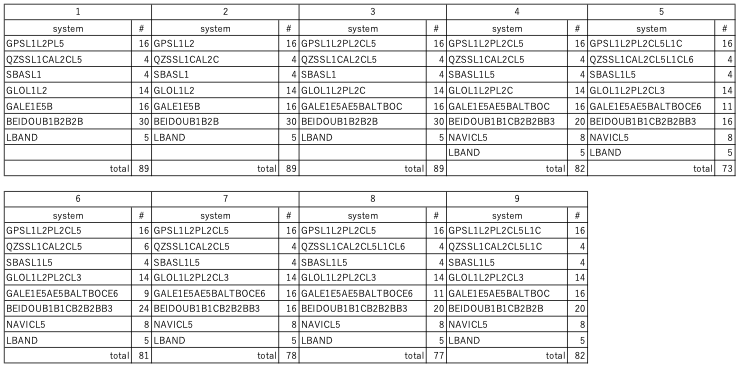 After the start of operation of QZS-1 replacement, it is expected the reception of the Michibiki L6 signal will not be observable. So for me, the QZSS L6 of this OEM729 receiver has a low priority. On the other hand, I definitely want to add NAVIC (Navigation for Indian Constellation). When I looked closely the table, I found there was a configuration in which the number of tracking satellites of QZSS was 6. I decided the channel configuration of #6!
SELECTCHANCONFIG 6

After firmware upgrade
When I checked the web interface, I found that the signal part of Galileo was written as undefined in addition to ALTBOC, E1C, E5AQ, and E5BQ. The signal undefined did not show the value of the signal level. It may be because the release of the Web UI is delayed.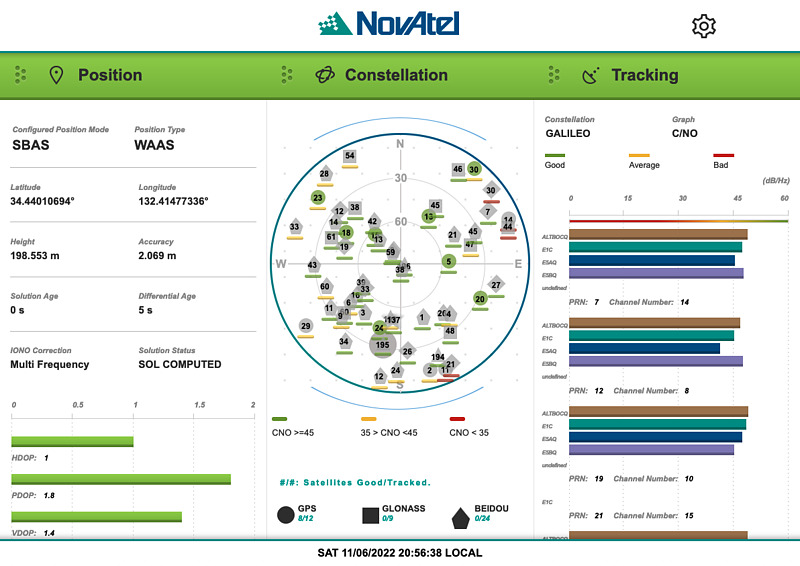 I am grateful for the NovAtel receiver as it is continuously provided with new firmware and is easy to update. I am looking forward to the new firmware in the future.