Among them, AQLOC which can receive the CLAS of the L6D signal would provide the highest accuracy of positioning with the augmentation signal of Michibiki. AQLOC seemed to be very popular, the lending has waiting for next six months, and the lending period will be shorten to one week.
There seems to be no device capable of receiving L6E signal MADOCA.
Currently I borrowed the equipment of the following items 1, 3, 4. We can try SLAS high precision positioning signal of Michibiki with QZ1 LE.
In Alpha G3T, the reception functions varies by the option. The Alpha G3T comes with options such as GPS L1 L2 L5, GLONASS, Michibiki (QZSS), multipass reduction, carrier phase. However, options of BeiDou, GALILEO, NTRIP Server and RTK do not seem to be included. It is intended for use in post processing rather than real time observation. We are looking forward to the evaluation experiments such as GPS and QZSS triple frequency measurement.
The developer of PA-L1(N)-L2, Nippon Antenna provided me an opportunity to design, create, and measure microstrip antennas while I am a university student. About 30 years have passed since then, I am very happy that I got a prototype of the company's new GNSS antenna.
Experiment using sub-meter level positioning L1S signal
I brought the above QZ 1 LE to the park and observed GNSS radio waves.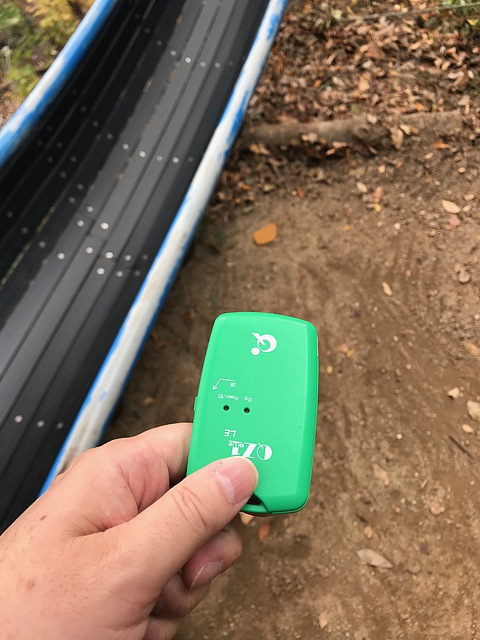 The results are as follows.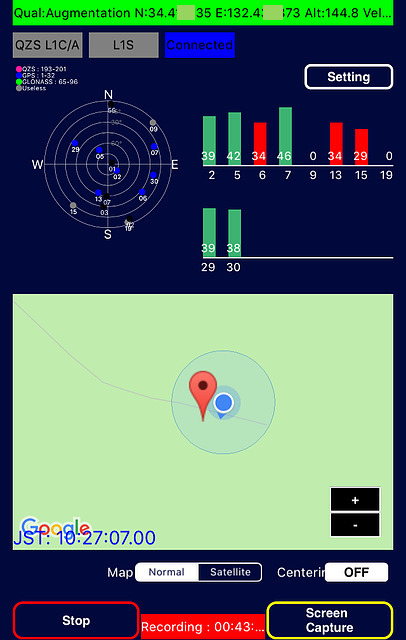 This output shows both the positioning result on iPhone and the positioning result in QZ1 LE. Although it is shown at the top of this screen that it is in a augmentation state. The satellite number of Michibiki is not displayed on the sky plot, therefore it is possible to be wrong usage.
As the positioning satellite on the setting screen, you can select 3 satellites of GPS, QZSS, GLONASS. When you deselect QZSS, augmentation information displayed at the top is no longer displayed, so it seems that it is receiving augmentation information from Michibiki in the QZSS selection state. Even if you select GLONASS, that satellite number was not displayed. The sky plot and the reception status display may not indicate all receiving satellites. I would like to try various things from now on.
This receiver would be capable of receiving the disaster/crisis management report service information in the L1S signal, and I would like to try it as well.
Published on 1st December 2018
Use of a photo without permission is prohibited.