First, we show the result of measuring the stationary target positioning using RTK as OSR. Above is the position locus of the mobile station as the stationary target in the vicinity of RTK base station. The mobile station is actually fixed, therefore it is ideal that it is fixed at one point. Although the results of single positioning (not shown here), they randomly showed a variation of about 5 meters in the east-west north-south direction. The RTK result reached the stationary fixed answer (fix solution) after trial of consistent position result of about 5 meters (float solution).
Precise position measurement using MADOCA
Next, precision point positioning (PPP) is performed using MADOCA product as SSR. In order to use the MADOCA product, "multifrequency receiver." But the following result is obtained from a single frequency receiver. The evaluation here is under an unfavorable condition that includes the error caused by item 3 above.
The reception setup is also described at the [MADOCA product application page] (https://ssl.tksc.jaxa.jp/madoca/public/public_application_en.html).
The PPP solution is obtained immediately after execution.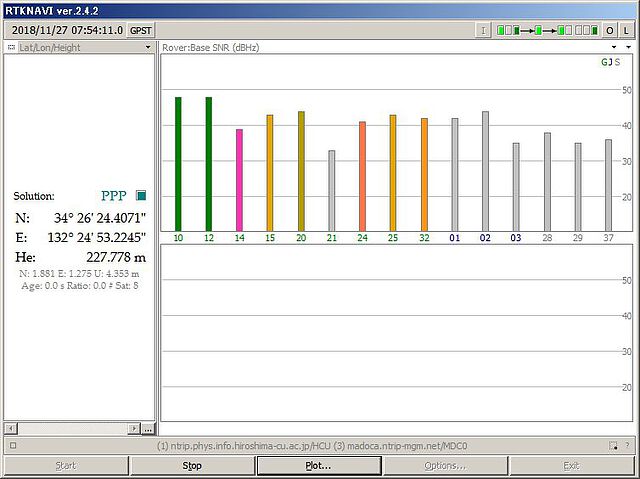 The position plot of MADOCA-PPP for this stationary target is as follows.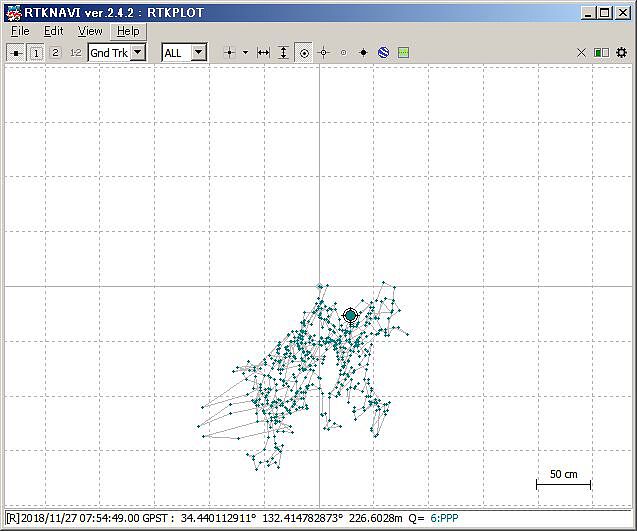 Variations in positioning results of about 5 meters in the east-to-west and north-to-south directions that existed in standalone positioning or RTK float solution decreased to about 1 meter with the MADOCA augmentation.
It is important to note that the result of this RTK and the result of MADOCA do not have the same latitude and longitude because of different measurement targets. In comparison target of RTK, we should change the setting between base station and mobile station.
It was found that the variation of the fixed target is reduced by MADOCA product.
Published on 28th November 2018
Use of a photo without permission is prohibited.